Who We Are
Who We Are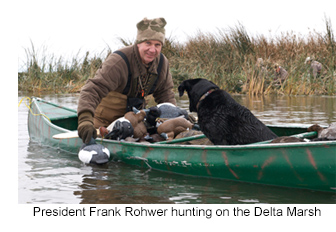 Delta Waterfowl is The Duck Hunters Organization™, a leading conservation group with origins dating to 1911. Headquartered in Bismarck, North Dakota, and Winnipeg, Manitoba, Delta Waterfowl has developed several key programs – including Predator Management, Hen Houses and First Hunt – all of which are based on sound science. Delta works to produce ducks, conserve breeding duck habitat, enhance duck hunting opportunities and ensure the continuing tradition of duck hunting in North America.
Delta works hard to be "the voice of the duck hunter".  Delta's network of chapters and volunteers serve as the eyes, ears and impactful voices to secure positive outcomes for duck hunters on local issues. It is this network of passionate waterfowlers who care about hunting in their communities, paired with Delta's years of accumulated experience on how to get things done that make a formidable team on behalf of the duck hunter.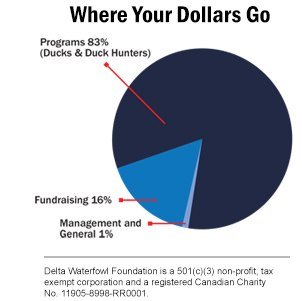 Our Mission:
To produce ducks and secure the future of waterfowl hunting.
Our Vision:
Abundant waterfowl and endless opportunities for hunters.
Membership:
Delta members are essential to the success of The Duck Hunters Organization. It is their passion that supports our mission and vision.