Truck Raffle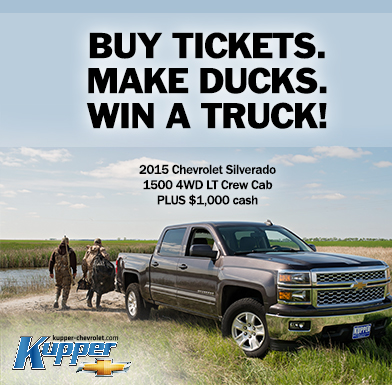 2015 Delta Waterfowl Truck Raffle
Only 1,000 tickets will be sold at $100 each. Act now before the drawing on October 9, 2015.
Your dollars will directly fuel Delta's mission to add ducks to your fall flight and to protect the future of waterfowling. We thank you for your continued support of Delta Waterfowl — The Duck Hunters Organization™.
You will receive a *FREE 2016 Delta Waterfowl Calendar with each ticket purchase!
Purchase your ticket(s) below or by calling 1-888-987-3695.
The 2015 Truck Raffle is sponsored by Kupper Chevrolet of Mandan, ND.
*Please note calendars will be mailed out in August.
Offer valid in the United States only. Void where prohibited by law. Drawing will be held October 9, 2015, at 12:00 pm CTS. Purchase of this ticket is not considered a charitable donation. Winner will be responsible for license, sales tax, and transportation to and from the dealership. Winner is also responsible for Federal and State income taxes. Please contact your tax advisor for proper reporting.