Youth Decoy Contest
2015 Youth Decoy Carving Contest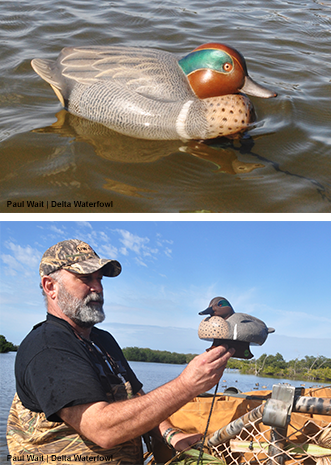 Worth Mathewson, Delta Waterfowl magazine field editor, is again sponsoring and funding a decoy-carving contest for youth ages 12 and under. Trophies will be awarded, with the top prize a CZ Ringneck 20-gauge double-barreled shotgun.
All entries must be a green-winged teal — drake or hen — and can be carved from wood or cork. The bird must be a self-righting, working decoy. Judges will test for how well the decoy rides the water. Work on all decoys must be done entirely by the contestant.
Decoys are due June 1, 2015, and must be sent by U.S. Mail only. No Federal Express or UPS deliveries will be accepted. Send completed decoys to Worth Mathewson, Box 130, Amity, OR 97101. Please include your name, age and address. Decoys will be returned.
A panel of judges will determine the winner in June, and winners will be notified in July. In addition to receiving a fine shotgun, the winning carver and decoy will be featured in Delta Waterfowl magazine.
We can't wait to see your decoys, so start crafting! 

*Official Rules: 1. All work on decoys submitted must be completed entirely by the youth carver aged 12 or under. 2. Decoys must depict a hen or drake green-winged teal, and can be made from wood or cork. 3. One decoy per contestant. 4. Decoys must be received via U.S. Mail on or before June 1, 2015. Send to Worth Mathewson, Box 130, Amity, OR 97101. 5. Judging will occur in June 2015, and the winner will be notified in July 2015. All decisions of the judges are final. 6. Any taxes are the responsibility of the winner. 7. Winner agrees to allow Delta Waterfowl to publicize winner's name and likeness in print and electronic media. 8. Delta Waterfowl and Worth Mathewson assume no risk or liability for lost, misdirected or ineligible entries, or for any loss or damage incurred by any person as a result of this contest.