$30 Friend Membership Final Flight
Put more ducks in the sky - support Delta Waterfowl!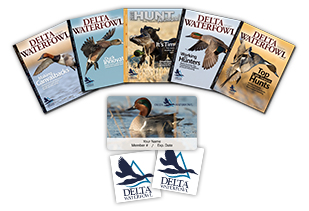 Your membership helps us deliver critical management practices that increase waterfowl populations for today's hunters. It will secure future waterfowl populations and waterfowl hunting through landscape agriculture policy, grassroots advocacy and public policy. For your generous support, you will receive exclusive member benefits that show you are a proud member of Delta Waterfowl, and that you care about protecting our waterfowl hunting heritage.
Included with your membership:
5 Delta Waterfowl Magazines
Monthly Delta Waterfowl Electronic Newsletter
Delta Waterfowl Decals
Membership Card Credentials
BONUS GIFT - Duck Call