Hunting Q & A
How do I label an assortment of decoys?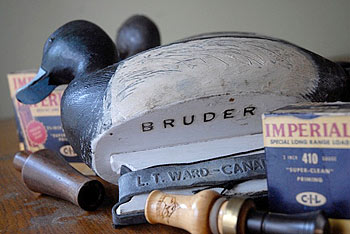 Q: How do I label an assortment of decoys? I've never felt the need to put my name and phone number on my decoys until now. Could you recommend the best ways to label decoys of assorted materials (rubber, foam, plastic, cork etc)? Thanks, Keith
A: That is a great question and I hope you can put this tip to use this season or complete the process of labeling your decoys during the off season. I often find myself hunting with other waterfowlers and combine our decoys to help build a respectful decoy spread. Waterfowlers are particular about their gear and should be with the investments made to help us become successful during our outings.
I have experimented with a variety of supplies, such as liquid white out, finger nail polish and permanent markers. I have found using a permanent marker the easiest method. I will generally use a different color than my hunting buddies to help make a quick judgment when the hunt is over. Simply mark your decoys on the bottom or where you have enough space to place the information you want to include. I use my initials to help get my equipment back home.
With an assortment of rubber, foam, plastic and cork you should be able to mark them with key information you want with any of the methods outlined. Decoys are like any other equipment a waterfowler accumulates and maintenance will be needed at some point. Good luck and hope you'll be able to find your mark.
-Scott Terning