Hunting Q & A
Do too many dogs in the spread make geese wary?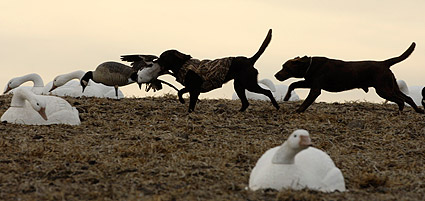 Q: Do too many hunting dogs in the spread make the geese more weary when coming into the decoys?- Robert
A: From my experience any movement from hunters or dogs is enough to spook birds from working into a field spread. Concealment in fields, while difficult is probably the most important attribute in ensuring a good hunt. We almost always use laydown type blinds to conceal the hunters (although in situations where there is ample straw one can hide without the use of blinds). Also there are new dog blinds on the market which can be covered in stubble to hide your retriever as well.
Anything you can do to minimize the ability of working birds from spying hunters and dogs will increase your effectiveness in getting 'em coming in feet down!
Have a great season!
—John Devney