Hunting Q & A
Do you have any tips on an inexpensive home made rig?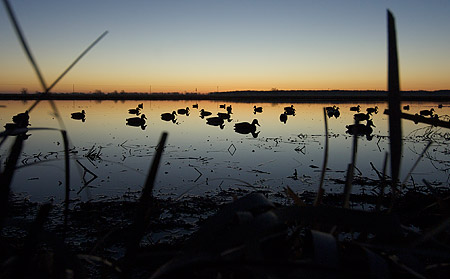 Q: I am preparing for the 2003-2004 Louisiana Duck season and plan to add a jerk-string to my spread this year. Do you have any tips on an inexpensive home made rig? Thanks, Kevin Sharp
A: A jerk string is a great addition to any decoy rig. I have built one myself (I am eternally cheap!) and here is how I built mine. Take a piece of dowel stick, small piece of pipe or whatever you can scrape together to use as your anchor post. From the post tie 12" of heavy decoy line (I prefer Tangle free or other plastic line for jerk strings) and tie off to a 6-12" old bungee cord. On the opposite end of the bungee run the same heavy line to activate the decoys and simply wrap the heavy cord around the keel of several decoys in your spread and then run the excess to the blind. On your blind end tie a simple loop that you can grab on to and start jerkin! I store this contraption on an extension cord holder which keeps it nice and neat. I hope this helps and I would almost bet you can build it from stuff you having laying around in the garage.
Good luck!
—John Devney