Hunting Q & A
Do you need lots of decoys and electronic calls to hunt snow geese?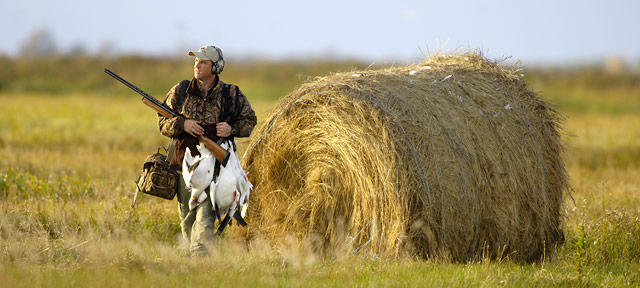 Q: I live in North Dakota and I plan to hunt light geese this spring. Do you need all those decoys and electronic calls?? -Max Barta
A: I know the thought of spreads of hundreds to thousands of decoys and all of the new gadgets out there can seem a bit overwhelming to people that may only hunt light geese a couple of days. While I like to spend most of my time snow goose hunting over decoys, pass shooting is a ton of fun and can be very productive!
The key with pass shooting is to take some time to observe the birds movements either off the roost to feed or trading between feeding flocks. Typically the most productive shooting comes when small bunches of birds are flying back and forth amongst feeding flocks. The key is to get under the flight line in these situations, find a natural feature that will afford some cover and patiently wait until birds are well within effective range.
If you are lucky enough to have birds that have established a relatively consistent pattern and your schedule allows some flexibility, wait for those days when you have strong winds or foggy conditions will you give you the upper hand.
One other tip on pass shooting-be ready to move quickly-if birds quit using your flight line, move quickly to a new site under the flight line. The best pass shooters I know are tremendously mobile to constantly stay under the birds!
Some of my most fond memories of snow goose hunting have been on great pass shooting days so don't be daunted by all of the mountains of gear-get out and scout grab your gun and have some fun!
Good luck.
—Scott Terning