Hunting Q & A
Would you recommend a flag for getting the attention of geese?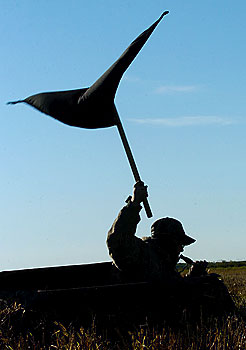 Q: I do a lot of field hunting and I was wondering if you recommend a flag to get the geese attention? -Kyle Brookhouse
A: Kyle, in my experience, any way to mimic movement in a field spread is critical to decoying geese consistently (especially those late season honkers that have seen any number of tricks!).
Flags have stood the test of time and we use both a short T-Flag design for finishing work, and a pole kite to attract the attention of flocks at a distance. We often hunt with groups (3-4 hunters) and will distribute calling and flagging responsibilities amongst the group with a couple of callers and flaggers.
I would suggest varying your technique to see what produces the best result, because on some days the birds want to be flagged right to the ground and on other days, they seem to just want to see it at a distance.
I hope this helps put some big honkers in your lap!
—John Devney