Delta News
Conservation Compliance Debated in U.S. Farm Bill Reconciliation
Posted on 10/29/2013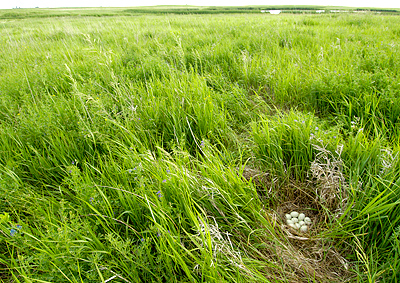 Members of the U.S. House of Representatives and U.S. Senate will begin meeting in conference committee Wednesday, Oct. 30, to reconcile differences between the bills that passed each chamber this summer with the hope of finalizing a new farm bill. While the focus of the bill is on nutrition programs and agricultural support, the legislation also provides the single largest funding mechanism for conservation on privately owned farm and ranch land in the United States.
The 2008 farm bill, which had been extended in December 2012, expired on Sept. 30.
"We are in the final stretches to getting a farm bill passed, which has been a high priority for farming and conservation groups alike for quite some time," said John Devney, vice president of U.S. policy for Delta Waterfowl. "Yet entering the final debate on the bill, we are still uncertain of how conservation compliance will fare, and at this point, conservation compliance is our greatest need to maintain the wetlands and grasslands necessary to sustain large fall flights of ducks into the future."
Conservation compliance has been an integral part of the farm bill since 1985, and ensures farmers who participate in federal farm programs won't drain wetlands or farm highly erodible soils without a conservation plan. However, as agricultural support has moved toward crop insurance, those basic conservation provisions no longer apply.
"We need to ensure that the new move to crop insurance, which is needed to support our nation's farmers, does not result in the loss of wetlands and grasslands," said Dr. Frank Rohwer, Delta Waterfowl president. "We need to ensure the safety net for our farmers is broad and deep, but we must also ensure that wetlands and grasslands don't get lost in the mix. Currently, nearly 70 percent of the small wetlands in the Dakotas receive protection because of conservation compliance. We need to maintain that protection."
Delta Waterfowl members are strongly urged to contact their House or Senate members on the conference committee and express your strong support for conservation compliance to be included in the new farm bill. Committee members are listed below:
House Conferees
Frank Lucas (R-OK)
Steve King (R-IA)
Randy Neugebauer (R-TX)
Mike Rogers (R-AL)
Michael Conaway (R-TX)
Glenn Thompson (R-PA)
Austin Scott (R-GA)
Rick Crawford (R-AR)
Collin Peterson (D-MN)
Mike McIntyre (D-NC)
Jim Costa (D-CA)
Tim Walz (D-MN)
Kurt Schrader (D-OR)
Jim McGovern (D-MA)
Suzan DelBene (D-WA)
Gloria McLeod (D-CA)
Martha Roby (R-AL)
Kristi Noem (R-SD)
Jeff Denham (R-CA)
Rodney Davis (R-IL)
Steve Southerland (R-FL)
Ed Royce (R-CA)
Tom Marino (R-PA)
Dave Camp (R-MI)
Sam Johnson (R-TX)
Filemon Vela (D-TX)
Marcia Fudge (D-OH)
Eliot Engel (D-NY)
Sandy Levin (D-MI)
Senate Conferees
Debbie Stabenow (D-MI)
Patrick Leahy (D-VT)
Tom Harkin (D-IA)
Max Baucus (D-MT)
Sherrod Brown (D-OH)
Amy Klobuchar (D-MN)
Michael Bennet (D-CO)
Thad Cochran (R-MS)
Pat Roberts (R-KS)
Saxby Chambliss (R-GA)
John Boozman (R-AR)
John Hoeven (R-ND)