Delta News
Virginia Sunday Hunting Bill Awaits Governor's Signature
Posted on 02/19/2014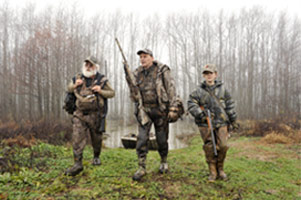 Virginia House Bill 1237 has passed the Virginia Senate, sending the bill to Gov. Terry McAuliffe for his signature, which would end the long-held prohibition against Sunday hunting in the Commonwealth. McAuliffe has consistently stated that he would sign the bill if it reached his desk.
Identical bills repealing the Sunday hunting ban passed in both the Virginia House and Senate.
"This is a proud day for all those interested in advancing hunting in Virginia and elsewhere," notes Dr. Frank Rohwer, president of Delta Waterfowl. "Too many times we find ourselves struggling to maintain hunting opportunities, and yet today in Virginia, we are one step closer to providing more opportunities. So much good work has been done by so many good folks in Virginia, and we are happy to be on the verge of joining in the celebration."
Delta Waterfowl has long supported efforts across a number of states and provinces to repeal Sunday hunting prohibitions because of the impediment it places on recruiting and retaining hunters. The addition of an extra day of hunting should provide for incremental hunting opportunities especially for young people. Sunday hunting is banned or restricted in 11 states — Connecticut, Delaware, Maine, Maryland, Massachusetts, New Jersey, North Carolina, Pennsylvania, South Carolina, Virginia and West Virginia.
Chris Williams, Delta Waterfowl regional director for the Atlantic Coast, was directly involved throughout the process to repeal the Virginia ban.
"This is one of the top priorities for so many of our members and volunteers up and down the Atlantic Flyway," he said. "I couldn't be more proud of all the people who worked together to make this happen. I can't wait to be in a Virginia duck blind on a Sunday this fall to be a part of history."