Delta News
Live From The Prairie 2.0: Delta's Duck Cam Returns
Tyler Shoberg on 06/04/2014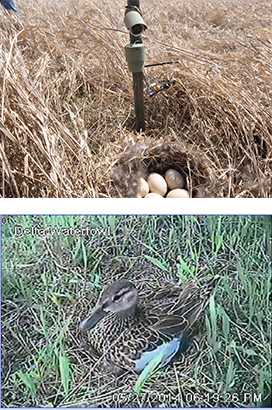 The performance played out like a blockbuster smash: Determination in the face of seemingly impossible odds — a life-or-death struggle for the world to see.
Last spring, Delta Waterfowl's Duck Cam streamed live to thousands of viewers worldwide as wild nesting ducks fought to survive and hatch the next generation in the prairie pothole region of North Dakota.
The ducks are back from the wintering grounds, and so too, is the Delta Duck Cam. It's streaming live video right now at deltaduckcam.com
"We're very excited to be bringing back our Duck Cam for the second year," said Joel Brice, Delta's vice president of conservation and hunter recruitment. "It gives us the opportunity to once again open a window few folks get to see that is critical to duck production and the birds hunters pursue each fall."
The camera, which is attached to a small post, has been placed overlooking a duck nest in north-central North Dakota. There, Delta technicians found a hen that had laid eggs in a swath of ideal grassland nesting cover. The first star is Blue-Winged Teal 007, named because her nest was the seventh found in the field. She began incubating 12 eggs on May 21, which should hatch around the second week of June — if a predator doesn't find them first. Technicians will keep close watch on the camera, and move it to a newfound nest if either event takes place.
Last year's Duck Cam went live May 28 on Pintail 004. Despite high densities of nest-raiding predators, she overcame the odds and successfully hatched her clutch a week later. A raiding raccoon visited the next duck, Gadwall 016. After briefly trying to incubate what was left of her partially destroyed clutch, she abandoned the nest for safer grounds.
The 2013 Duck Cam documented the nesting period of four separate hens, two of which hatched successfully, while the others were predated. The video feed ended July 19 when no further nests could be located.
What awaits viewers of this year's Delta Duck Cam? Tune in to watch the drama unfold — live!