Blogs
Duck World Loses a Fierce Advocate
John Devney, Vice President of U.S. policy on 03/08/2013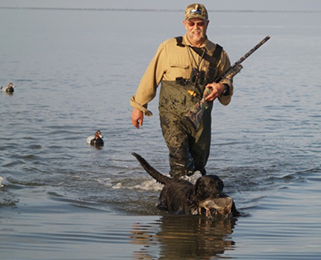 I received word Thursday morning that my friend, and renowned waterfowl researcher, Dr. Dave Ankney passed away in his sleep. Dave had been fighting cancer for some time. Sadly, he lost his battle.
Many of Dave's friends and colleagues knew the end was at hand. That didn't weaken the effect of hearing the news. It didn't mute the sadness when his passing was announced. Ducks and duck hunters have lost a dear friend.
Dave was amongst a small group of researchers who moved our understanding of waterfowl ecology by leaps and bounds. One can scan the literature on ducks and geese and find Ankney referenced extensively throughout. His time at the University of Western Ontario had a profound impact on the waterfowl field. Dave mentored legions of future researchers and managers who have positively impacted waterfowl, waterfowl habitat and waterfowl hunting throughout their careers.
The academic world saw a prolific researcher and wonderful mentor. But Dave went far beyond that. He recognized that scientific results, as powerful as they can be, need advocates to defend and propel them into having an impact.
My relationship as a lay member of the duck world meant I would never understand some of Dave's findings on energetics, or understand the statistics he used. I wasn't a student of his, nor did I have the chance to see him in the field. But the Dave Ankney I knew was a tough, no-nonsense pursuer of the truth.
Dave's scathing rhetoric is legendary. If you came with an incongruent line of thinking or a theory based on a shaky scientific foundation, prepare to receive a proper lashing. I know I received a few! But I always left a discussion with a better sense of the issues.
Despite his prickly appearance, Dave was always willing to undertake a discussion of new and novel ideas. He liked to walk through issues, and entertain the dialog. Using Dave as a sounding board improved my understanding and affirmed what I knew. Most importantly, it affirmed what I didn't know.
Dave was one of us. He was a hunter who wanted the world to be a better place. I bet his fondest memories were not of publishing papers but of days afield - a morning in Saskatchewan chasing ducks, geese or cranes, or on the Texas gulf coasts gunning redheads and sprig with Sandi and his black Labs.
It is with great sadness that we say goodbye to Dave. I hope he is in place where the redheads are always plentiful and the pintails are not so wary. I hope there are a lot of black Labs, a good grill and plenty of cold beer.
Dave has left us a tall task. We must do our best to ensure ducks are always abundant and duck hunters are afield. It won't be easy without his counsel, his passion and his occasional kick in the fanny.
God bless you Dave.