Blogs
Burleigh County, N.D. is a long way from Washington, D.C., but…
John Devney, Vice President of U.S. Policy on 10/08/2013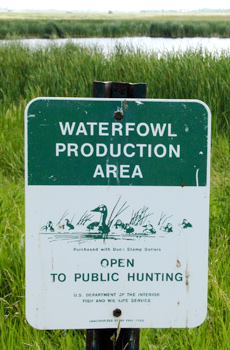 Because I had been stocking up a ton of extra work hours over the past few weeks, I took a few hours Friday morning to take a prairie cruise, rejuvenate my soul a bit, and yup, to look for some ducks. The day was plagued by high winds and heavy rain, so my scouting was only marginally productive. Yet, it was good to travel gravel roads, see ducks and geese on the wing, and visit some of my favorite duck spots.
One of my all-time favorite places was on my list to check out last week. It is a large Waterfowl Production Area a bit over an hour north and east of Bismarck. It is a massive tract of native grass and wetlands — a breathtaking place where I have shot a fair few ducks, geese, roosters and sharptails over the years. It was the site of my black dog Seamus' first retrieve on a drake bluebill (an important rite of passage in the Devney household.) Needless to say, it is a place I cherish, and I am eager to return when late fall's strong north winds bring cold, snow and diving ducks.
But days afield on this ground are as up in the air as is everything else in Washington, D.C. As I glassed the larger lake scanning for squadrons of bluebills and bobbing rafts of canvasbacks, I also noticed the gate across the WPA entrance drawn shut: A subtle, yet definitive whisper that these lonely, wind-swept prairies aren't immune from politics.
The government shutdown is having implications for bits of grass and wetlands and duck hunters a million miles away from the dysfunction inside the Capitol beltway.
Despite the fact that your dollars and mine, via federal duck stamp purchases, acquired this ground for duck production and recreation, we are now locked out. We are the ones left out.
Now I recognize that duck hunters losing access to a WPA is way down the list of the challenges generated by the shutdown, but it is nonetheless a maddening real-world, proximate example of how screwed up things are in D.C. No matter your political persuasion, ideological orientation or feelings on any issues on Capitol Hill, the absence of leadership is clear.
So while the warring factions in Washington joust and tussle, shout and squabble, a lot of hunters stand on the outside the gate looking in, just like me at a favorite WPA.
I hope for reasons much grander than my gunning a WPA, or other hunters gathering in drawing rooms and sweat lines at refuges across the country, that our politicians get to work. But I don't have much confidence. So rather than watch this play out on cable news programming, I will be out in the marsh as often as I can be, waiting on ducks. And on politicians.
John Devney serves as vice president of U.S. policy for Delta Waterfowl.