Blogs
SHOT Show Industry Day at the Range
Paul Wait, Magazine Editor on 01/14/2014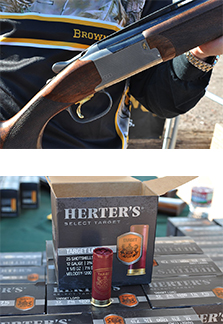 BOULDER CITY, NEV. — Warning: Ear and eye protection required.
The Shooting, Hunting, Outdoor Trade Show — a.k.a. the SHOT Show — began with a flurry of bangs Monday in the desert just outside of Las Vegas. Industry Day at the Range gives media members a first chance to shoot and handle new guns, ammunition, targets and outdoor gear being introduced in 2014.
Here's a quick look at a few items I found interesting:
Benelli has upgraded its shotgun platform with the Ethos shotgun. The sleek, lightweight (6.5 pound) semi-auto handled beautifully and features a new recoil system that really does take away the bite to a shooter's shoulder. I appreciated two other features of note: the gun's safety is positioned toward the top rear of the trigger guard, and importantly, the Ethos has a new easy-locking bolt system that guarantees the gun will be ready to fire when a shotshell is chambered.
A few tables down, I picked up the Browning Citori 725. Offered in both 12-gauge and 20-gauge, I opted for the 20-gauge. The stylish over-and-under features a low-profile receiver, mechanical trigger and recoil pad designed to reduce muzzle rise. It's an impressive double gun.
Cabela's is working to keep a brand popular with duck hunters going, adding Herter's Target Loads to its family of products. And given that turkey season is fast approaching, I couldn't help but stop at the Winchester Ammunition booth to take aim at a turkey target with a load of Winchester Ammo Long Beard XR. The new 3-inch, 1 ¾-ounce and 3.5-inch, 2-ounce loads are available in No. 4, 5 and 6 shot. My Nevada paper turkey died at 40 yards.
Back on the waterfowl front, I checked in on Sure-Shot Game Calls, a Texas company famous for the Yentzen double-reed duck call. The Sure-Shot Yentzen One is machined from a composite material and designed for volume without compromising its ducky sound. Sure-Shot kept the classic Yentzen shape and feel, but designed a modern call sure to bring ducks to the gun.
If you're in the market for a new outdoors ride, the Nissan Titan Series is worth a look. Nissan USA has brought rugged truck powered by a Cummins diesel engine to market, and it'll surely tow a few duck boats and goose trailers this fall.
And when the hunt is over, you can dress your birds and drop the meat in Seth McGinn's Can Cooker, a convection cooking system that allows the chef to prepare an easy meal without a fuss over any heat source. Seems like a downright handy addition for any duck camp or camping expedition.
Speaking of expeditions, the SHOT Show floor awaits. I've put on my best walking shoes, and I'm ready to explore more hunting gear.
Decoys, camo and blind bags straight ahead!