Blogs
Becoming a Better Dog Trainer — Part 3: Consistency is Key
Tyler Shoberg, Associate Editor on 06/03/2014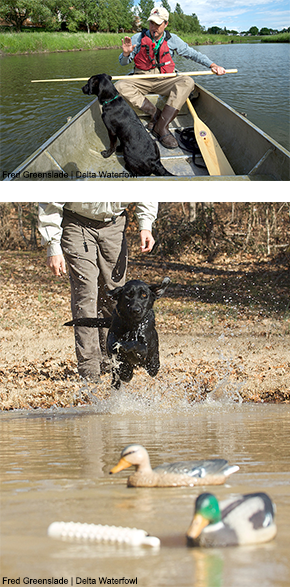 In Parts 1 and 2 of this series, we addressed being calm and patient during dog training. The third key to becoming a better dog trainer is consistency — in everything.
Dog training is all about teaching a dog what is expected. If you do your job correctly and consistently, a retriever will realize obedience isn't just for the field, but is expected in the home, too.
Consistency in training means holding your dog to the same standard every single time it acts on a command. "Come" means come here directly to you, not come in a general direction and veer off at 20 yards. "Heel" means at your side, walking at your pace, without jumping ahead or pulling.
Don't harp one minute, and then let disobedience slide the next. Dogs will come to realize that commands can be followed when they feel like it since you only hold them accountable once in awhile.
Consistency also is saying the same thing in the same way. "Come," "heel," "sit" and "stay" are all one-word commands for different actions. Don't command "come" one time, then "come-here-Buddy-good-boy" the next. Keep things simple.
Get your family on board. Explain the training and what the dog is expected to do. Chances are, the trainer (i.e. you) will be viewed as the alpha dog in the family. The retriever might jump at all commands you give, but ignore commands by others. By helping your entire family (and friends and neighbors if necessary) become consistent with commands, the dog will soon realize that an order from anyone else requires the same diligence as it does from you. The result is a more well-behaved and obedient dog.
Coming Soon — Part 4: Set Goals and Find Help