Chapter News
Prince Edward Island Chapter Uses Hen Houses to Teach
Posted on 04/04/2014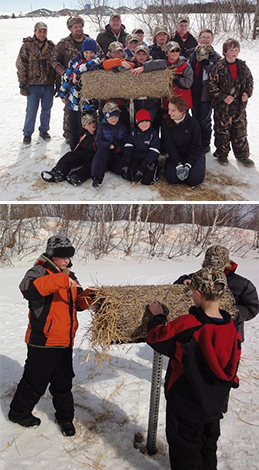 In mid March, with winter's grip far from relaxed, Canadian Delta Waterfowl volunteers took the time to teach area youth about conservation and waterfowl management.
The Summerside Chapter of Prince Edward Island, Canada, worked with area Boy Scouts to construct Hen Houses in anticipation of ducks returning for the spring nesting season. Beaver, Cub and Boy Scout troops learned about different duck species, the impact of predation on nesting ducks and the benefits nesting structures have on duck production.
Chapter volunteers also held a duck calling demonstration and taught the finer points of being a responsible hunter.
"It was a great way to spend a Saturday morning," chapter member Eric Paynter said.
The group met again a week later to install the Hen Houses at a marsh near Summerside. The location will allow the budding conservationists to monitor and maintain the structures throughout the year.