Chapter News
Wisconsin Delta Members Build Hundreds of Wood Duck Boxes
Tyler Shoberg, Associate Editor on 05/22/2014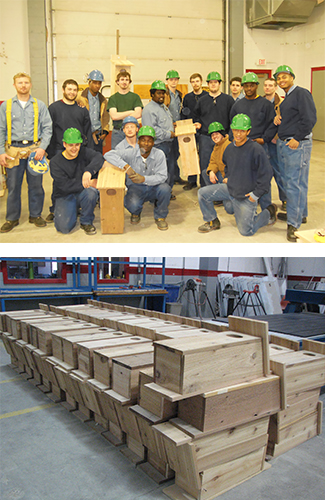 The Chequamegon-Nicolet National Forest covers 1.5 million acres in northern Wisconsin. Hidden inside and fastened to trees and posts were nearly three hundred derelict wood duck boxes, falling apart and succumbing to neglect. The U.S. Forest Service, which had installed and maintained them since the mid-1980s, ran out of resources and was forced to abandon the program.
Eric Johnson didn't think that seemed right, but the Delta Waterfowl Packerland Chapter chairman understood that sometimes government programs get cut. Instead of griping, he and fellow Green Bay, Wis., committee members decided to breathe life back into the wood duck box program.
"After contacting the Forest Service, they agreed to let us help out," Johnson said. "We paid for 100 wood duck boxes up front with our Waterfowl Heritage Funds."
It was money well spent. The Service liked what they saw, and after more negotiations, agreed to allow Johnson to extend the program to cover Lakewood-Laona, Washburn and Eagle River-Florence Ranger Districts for 75 additional wood duck boxes.
Things were churning at high gear, and late last year, the Packerland Chapter and the Forest Service shook hands on a cost-share agreement in which the Delta members would get funding to produce 100 additional wood duck boxes.
It was time for reinforcements.
Through some calls and coordination, Johnson's friend, Erich Pitz, had lumber delivered to the Blackwell Job Corps Center, a Forest Service educational institution for youth and young adults. The students eagerly constructed the wood duck boxes, producing a truckload in short order.
Complete with donated poles and sheet metal predator guards, hundreds of nesting wood ducks again have new homes in northern Wisconsin. The Packerland Chapter successfully revived a defunct government nesting structure program that would have gone unnoticed had it not been for activism of their chairman, and coordination between members, the Forest Service and the Blackwell Job Center.
"It's definitely a joint effort," Johnson said. "And there's a chance our wood duck program could expand to all forest districts within the Chequamegon-Nicolet National Forest."