Chapter News
Ontario Chapter Sponsors Junior Trap Champion
Posted on 09/04/2015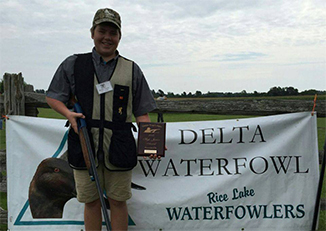 The Rice Lake Waterfowlers Chapter of Bewdley, Ontario, helped a young Delta member win a trap-shooting championship. Utilizing Waterfowl Heritage Funds, the chapter sponsored 14-year-old Mitchell Mamers' participation in the Quinte Trap League. After competing in six 125-target shoots from May to August, Mamers was awarded first place in the Junior Division (open to shooters under 18).
"A big thanks to the volunteers at the Rice Lake Waterfowlers Chapter and to chapter chairman John Sutherland, for all their work with youths in their community," said Delta Waterfowl regional director Russ Donnelly.
Mamers, a Delta member, is among the chapter's dedicated volunteers. He takes an especially active role in organizing the group's annual fundraising banquets.
"We congratulate Mitchell on taking first place," said Sutherland. "Thank you, Mitchell, for supporting our chapter. You make us all proud."