Chapter News
Texas Hunting Retriever Chapter Sponsors Youth Hunter Camp
Posted on 10/20/2015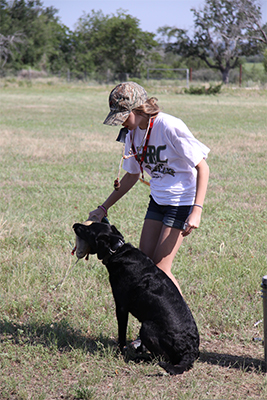 On a pleasant weekend in June, the Texas Hunting Retriever Chapter sponsored a Hunting Retriever Club Youth Camp. Twenty kids learned to identify and call ducks, set decoys, handle shotguns safely and even train their own duck dogs.
"The event was a real hit," said Rick Wojciechowski, chapter chairman. "The kids loved working with their retrievers and would've shot clays all day if we let them."
Most campers brought their own retrievers, while others were loaned dogs by the four professional trainers serving as mentors. Sunday evening marked the event's grand finale, as campers enjoyed the thrill of handling their dogs in a real hunt test scenario.
"For most kids, that's the highlight of the camp," Wojciechowski said. "They get to demonstrate all they've learned by handling their dogs in a simulated hunt."
Wojciechowski began hosting HRC Youth Camps in 2007, often challenged to secure the necessary resources. However, after a chance encounter in 2009 with a Delta Waterfowl regional director — who pitched in and arranged for call-maker Kelly Haydel to provide instruction —Wojciechowski formed the Texas Hunting Retriever Chapter of Delta Waterfowl.
"Thanks to our chapter's Waterfowl Heritage Fund, we're now able to help low-income kids attend and give every camper a free T-shirt and duck call," Wojciechowski said. "It's a great relationship, because HRC and Delta both believe in teaching the next generation to hunt ducks."