Chapter News
Dufferin County Chapter Builds 40 Hen Houses in First Year
Posted on 02/10/2016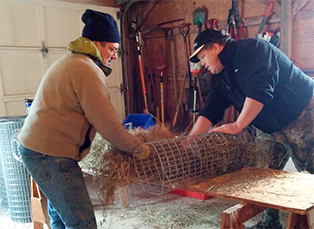 Based in Orangeville, Ontario, the Dufferin County Chapter of Delta Waterfowl has hit the ground running since hosting its first fundraising dinner in April 2015. The chapter has done much to support ducks and duck hunters, including construction of 40 new Hen Houses for installation across local wetlands.
"Building Hen Houses was one of our goals when we formed the chapter," said Shayne Coon, chapter chairman. "We felt a Delta chapter would provide an excellent opportunity to start making ducks locally. The committee has jumped in with both feet."
The chapter held a "Hen House day" at the Islington Sportsmen's Club in July 2015 following a children's fishing derby. Several youth participants learned about waterfowl conservation while building more than 10 Hen Houses.
"It was a great event," Coon said. "Committee member Chip Pitfield, also a member of Delta's Board of Directors, was a driving force behind it."
The committee, plus six Delta volunteers, met again in January. Through use of the chapter's Waterfowl Heritage Funds, they constructed a whopping 30 Hen Houses.
"We've gotten better at building them," Coon said. "We've got a system down now."