Chapter News
Ontario Chapter Builds 29 Hen Houses in Two Hours
Posted on 04/11/2016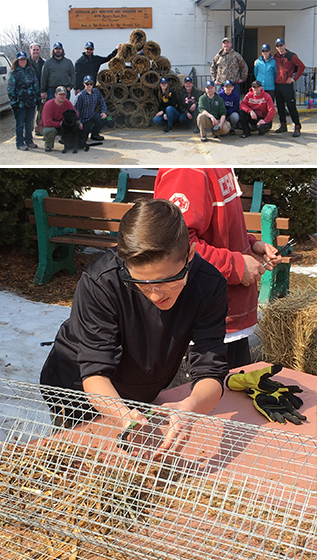 Ontario's Simcoe County Chapter of Delta Waterfowl planned to spend much of Saturday, March 12, building Hen Houses. However, a mere two hours into the event, all 29 nesting structures were assembled and ready to boost mallard production.
"We actually tried to slow down, because other people were coming who wanted to help," said Mark Garrett, chapter chairman. "The workshop was attended by a dozen kids, mostly members of the local Georgian Bay Hunter and Angler Junior Club, and a dozen adults. The kids were amazing. We gave them a quick tutorial and they didn't stop until all the Hen Houses were built."
Most of the nesting structures have already been installed on a mix of public and private wetlands throughout Simcoe County. It's a sizeable contribution to duck production for a chapter that was just founded in January.
"We'd been batting around the idea of forming a Delta chapter for years, but when we heard about Delta's new Great Lakes Initiative — which will even more directly impact our area — we knew the time was right," Garrett explained. "Our committee is all conservation-minded duck hunters and we're big on putting back more ducks than we take."
For more information on the Simcoe County Chapter, visit facebook.com/DeltaWaterfowlSimcoeCountyChapter.