Delta News
Delta Waterfowl Introduces Bold New Logo
Posted on 08/09/2013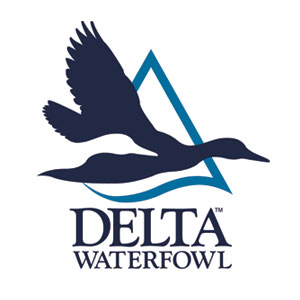 BISMARCK, N.D. — Delta Waterfowl has created a striking new logo to represent the storied waterfowl conservation organization as it evolves to face the ongoing challenges for ducks and duck hunters throughout North America.
Rooted in a historic foundation of waterfowl and wetlands research dating back to 1911, Delta's leaders recognize that research alone won't increase duck production, stop wetland losses or preserve waterfowl hunting. Using sound science as a guide, today's Delta advances modern approaches to waterfowl and habitat conservation with a focus on producing ducks, all while standing strong for waterfowl hunters.
Delta's new logo represents this evolution, while maintaining strong ties to the bedrock that has carried the organization through its first 100 years. Key elements of Delta's previous logo — two ducks framed by a triangle — are the foundation for the bold new emblem that now marks the Delta Waterfowl brand, programs and ideals.
"This logo embodies the ongoing growth of programming at Delta — an evolution from a research organization to an organization who puts its science to work to produce ducks," said Dr. Frank Rohwer, president of Delta Waterfowl. "Delta's commitment to duck production and habitat conservation is driven by the needs of North American duck hunters, as is our work recruiting, training and representing duck hunters everywhere."
The new logo appears on all of Delta's banquet package merchandise for 2013, and hats, shirts and hunting jackets featuring the new look are available in the Delta Store.
For more information, contact Jason Tharpe at jtharpe@deltawaterfowl.org; 888-987-3695 ext. 221, or visit www.deltawaterfowl.org.
Delta Waterfowl Foundation is a leading North American conservation organization, tracing its origins to the birth of the wildlife conservation movement in 1911. The Foundation supports research, provides leadership and offers science-based solutions to efficiently conserve waterfowl and secure the future of waterfowl hunting. Delta Waterfowl is based in Winnipeg, Manitoba, and Bismarck, N.D.