Delta News
Habitat Losses Mounting
Posted on 08/12/2013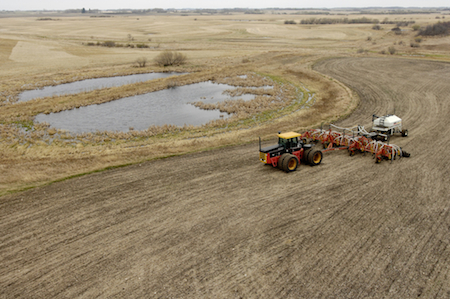 The rate of wetland and grassland habitat loss in the U.S. prairies will make securing habitat and duck populations a larger challenge in the future.
That's the conclusion of Prairie Pothole Joint Venture (PPJV) researchers in a recently released report. The PPJV is a conservation partnership responsible for wetland and grassland conservation in the U.S. portion of the duck factory.
The PPJV said current loss rates of wetlands and grassland nesting cover will make many of the partnership's goals difficult to reach. PPJV partners protect an annual average of 0.20 percent of the 8.2 million acres of wetlands in North Dakota, South Dakota, Minnesota, Montana and Iowa. Loss of wetlands ranges from 0.05 to 0.57 percent annually.
"The loss rates might seem small, but what the report clearly shows is that seemingly small, consistent losses over time will result in a landscape drastically reduced in its ability to attract and produce ducks," says John Devney, Delta's vice president of U.S. policy. "It's just not sustainable."
The report says the prairie pothole region is losing between 0.4 and 1.3 percent of the remaining 26.4 million acres of grasslands every year. PPJV partners are protecting an average of 0.26 percent.
"Consequently," says the report, "PPJV partners cannot reach stated conservation goals given current habitat loss rates unless 1) increased funding is secured for land conservation, 2) landowner interest and acceptance of conservation programs remains high, and 3) wetland and grassland loss rates are decreased via public policy, particularly through agriculture programs, or other mechanisms."
The report concludes that oil and gas development and world agricultural demand will continue to put pressure on the region. As world demand food and energy increases, so will the economic incentives to develop available land.
"Pressures on the U.S. prairies are significant. High commodity prices, surging land costs and energy development will make the collective task of conserving habitat and achieving duck production goals a massive task," says Devney. "It will take innovation, hard work and significant investment to turn the tide."