Delta News
Early Teal Bag, U.S. Possession Limits Increase
Paul Wait on 08/21/2013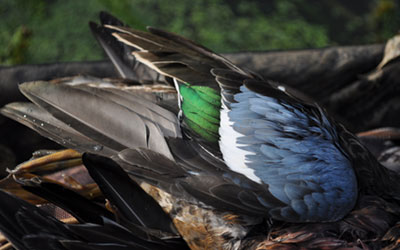 Hunters from Illinois and Ohio on down to Texas and Florida will have higher daily bag and possession limits when the September early teal season fires up in a few weeks.
Acting on a request from waterfowl managers in the Atlantic, Mississippi and Central flyways, the U.S. Fish and Wildlife Service has changed the daily bag limit to six teal for the September season.
"Teal populations have been at historic highs recently," noted Dr. Frank Rohwer, president of Delta Waterfowl. "Teal — especially bluewings — are relatively lightly harvested, so providing hunters with increased hunting opportunity is a sound decision."
Bluewings and cinnamon teal begin migrating south in August, and many reach their wintering grounds before hunting seasons begin. Harvest statistics tell the story. In 2011, U.S. hunters took 1.25 million bluewings/cinnamon teal. Louisiana accounted for 462,750, while Texas hunters shot 199,120 and Florida gunners another 76,560. By contrast, hunters in North Dakota, the key breeding state for bluewings, shot 53,850.
At a spring breeding population of 7.73 million, blue-winged teal populations are 60 percent above the long-term average, while green-winged teal are 51 percent above the long-term average at 3.05 million. Good wetland conditions throughout most of the teal breeding range should lead to excellent duck production.
While possession limit increase to three times the daily bag limit begins during the early teal season, it continues into the regular duck season. The new possession limits are in effect for all waterfowl species in all four flyways. For example, in the Mississippi Flyway, where the daily bag limit is six ducks, the possession limit is 18 ducks. Species-specific regulations still apply to the possession limit increase, so if the limit on wood ducks in a state is three daily, the possession limit for wood ducks is nine.
By Paul Wait
Delta Waterfowl Foundation is a leading North American conservation organization, tracing its origins to the birth of the wildlife conservation movement in 1911. The Foundation supports research, provides leadership and offers science-based solutions to efficiently conserve waterfowl and secure the future of waterfowl hunting. Delta Waterfowl is based in Winnipeg, Manitoba, and Bismarck, N.D.