Delta News
'Love My New Gun'
Jeremy Stephens, Regional Director on 08/24/2013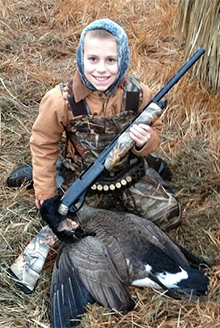 At Delta Waterfowl, we are "the future of waterfowl and waterfowl hunting." That waterfowl hunting part is what attracted me to Delta five years ago. My desire to introduce kids to our sport and Delta's First Hunt program were a match made in heaven.
As a regional director, I am charged with raising as much money as possible within my region to fund Delta's programs. Seemingly every weekend, I travel to a different town to help the best volunteers in conservation be as successful as possible. Toward the end of the night, you can usually find me with a microphone in one hand and a bucket full of raffle tickets in the other pulling winners and giving congratulations. I enjoy every minute of it.
Recently at my hometown banquet, where my career at Delta began, I pulled a winner that made me happier than any of the previous winners. Blake Petsel, an 11-year-old from Missouri who had accompanied me on a youth hunt just two months earlier, was the proud winner of the 2012 Delta Waterfowl First Hunt gun — a youth model Remington 870.
I have to give credit to his father, Randy Petsel, for taking Blake and his younger brother, Blaine, 9, out waterfowl hunting nearly every weekend. Waterfowl hunting is a lot of work and the extra effort involved with taking two young sons on every hunt speaks to the passion he has for this sport and the love he has for his kids. Although, in talking to the boys, I'm not sure he has much choice. These two boys are dedicated, constantly tracking down my nephew, who is a classmate of theirs to talk duck hunting in between classes.
So, when I saw Blake come strutting up with a beaming smile holding the winning ticket, I knew that the gun was going to right place. A young man with the passion for our sport and a father willing to take him meant this youth shotgun was going to live a happy life with many days afield and a lot of game would fall at the end of its barrel.
I just didn't have any idea how quickly that would come true.
The next morning as I was drinking my first cup of coffee, I heard the ding of my cell phone announcing an incoming text message. I saw an unfamiliar number and opened it to investigate. The happiness that I had the night before when I was handing the gun to Blake was nothing compared what I felt as I read the message and saw the attached picture.
"Hey, it's Blake Petsel. Look what I got with my new Delta gun. Thanks. Love my new gun. It rolls "em."
Not 12 hours after winning the gun, Blake had harvested his first Canada goose with it. I was ecstatic!
Thank you, Randy Petsel, for putting forth the effort to always include your sons while hunting. The future of our sport is in good hands with Blake and Blaine Petsel in our corner.
And thank you, Blake, for sending me the message. It not only made my day, it made my year.
Jeremy Stephens is a regional director covering Illinois, Indiana, Ohio, Michigan and part of Missouri for Delta Waterfowl.