Delta News
Delta Chapter Creates Stir With Gun Raffle to Aid School
Posted on 09/01/2013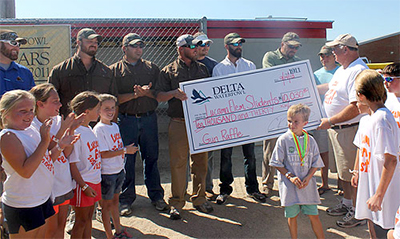 When Delta Waterfowl volunteers in North Carolina learned about a budget crisis in their hometown school, they wanted to help. Budget cuts meant some of the programs and resources available at Lucama Elementary School in Wilson County, N.C., were on the chopping block.
So how do a group of waterfowl hunters raise money? Naturally, they raffle a gun.
While Sanoca Southern Gentleman Chapter was eager to help and the district superintendent signed off on the idea, a number of local residents expressed displeasure. A national media frenzy ensued, with news outlets from the Huffington Post to the MSN.com picking up the story. Website comment sections were loaded with messages, both supportive of the effort and others that were downright hostile in opposition.
"There's 25 of us on this committee, and we're all avid hunters, but we're dads first," said Ryan Beamon, Sanoca chapter chairman. "All of us have kids. When one of our committee members came to us with a need for the kids, we jumped on it. We didn't expect a backlash."
"Frankly I was stunned," said Chris Williams, Delta Waterfowl regional director for the Atlantic Coast, who worked with the chapter to get the gun and supported the concept when it was first suggested. "Here we have a community in need and our volunteers step up to help. It becomes a media circus and a referendum on guns. These folks just wanted to be good citizens to help out their community. I would have never imagined this would draw so much interest and so much debate."
In all, the nationwide exposure spurred strong raffle sales. The proceeds were originally anticipated to be $500. In the wake of the broad media coverage, the raffle netted more than $10,030 for the school.
"I couldn't be more proud," Williams said. "These folks did the right thing to help their school and were gracious beyond belief while some people were critical of them. I am very happy to have these fine folks as Delta Waterfowl members and volunteers."