Delta News
Delta's North Carolina chapters win Governor's Conservation award
Tyler Shoberg, Associate Editor on 09/10/2013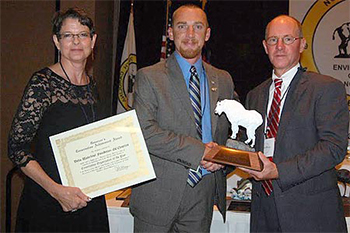 The North Carolina Wildlife Federation has chosen the state's Delta Waterfowl chapters as the Conservation Organization of the Year.
The prestigious honor was presented Sept. 7 during the 2013 NCWF Governor's Conservation Achievement Awards banquet in Cary, N.C. On hand were 24 North Carolina chapter representatives, as well as Chris Williams, Atlantic Coast regional director, who accepted the award on behalf of Delta Waterfowl.
In its 50th year, the Governor's Conservation awards spotlight groups and individuals who exhibit unwavering commitment to conservation in North Carolina.
"This is a huge deal. It proves Delta is on the minds of folks in North Carolina," Williams said. "It's become a widely known fact around here that we will go to bat for conservation and duck hunters."
When the tradition of waterfowl hunting was recently threatened on their home water, Lake Norman Chapter members, under the guidance of Williams and John Devney, Delta's vice president of U.S. Policy, influenced legislation that safeguarded historical Lake Norman hunting areas.
Chapters spread waterfowl knowledge and recruit new hunters, too. Chapter-run First Hunt and youth waterfowl events are common across the Tar Heel State. Last year, all North Carolina chapters also helped host a special international hunt for wounded veterans.
For Williams, the award affirms the effort and spirit he sees from the state's Delta volunteers and members. The award statuette will be displayed at upcoming North Carolina chapter events, and each state chapter will be presented with a certificate to mark the achievement.
After the awards ceremony, Williams spoke to Steve Smith of the Coastal Carolina Chapter in Bayboro, N.C.
"Smith told me, point blank, that the reason this award meant so much to him is because our chapters work together as a team. He thoroughly enjoys volunteering for Delta because our chapters aren't in a competition against each other," Williams said. "We work toward a common goal: For the future of ducks and duck hunting."
— Tyler Shoberg