Delta News
South Dakota Artist Wins U.S. Duck Stamp Competition
Paul Wait, Magazine Editor on 10/08/2013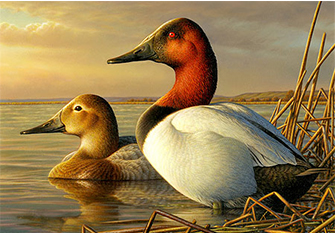 A striking pair of resting canvasbacks at the edge of a marsh depicted by Adam Grimm will become the 2014-2015 Federal Duck Stamp.
Grimm, of Burbank, S.D., won the juried art competition on Sept. 28, when his oil painting was judged the best of 201 entries. Eligible species for the contest this year included blue-winged teal, cinnamon teal, gadwall, mallard and canvasback.
Grimm is a two-time winner of the contest. His painting of a mottled duck stretching its wings appeared on the 2000-2001 Federal Duck Stamp. Interestingly, Grimm's daughter, Madison Grimm, won the Junior Duck Stamp competition earlier this year. Her painting of a drake canvasback on the water is the artwork on the 2013-2014 junior stamp.
The Migratory Bird Conservation and Hunting Stamp — commonly called the Federal Duck Stamp — raises about $25 million annually, of which 98 percent goes directly to purchase migratory bird habitat in the National Wildlife Refuge System. The duck stamp program began in the United States in 1934.
"For eight decades, hunters, birders and millions of other people who purchase Federal Duck Stamps have made a direct contribution to wildlife conservation through protection of wetland habitats," said Jerome Ford, U.S. Fish and Wildlife Service assistant director for migratory birds.
— Paul Wait