Delta News
O'Brien a Visionary for Migratory Bird Management
Paul Wait, Editor/Publisher on 10/13/2013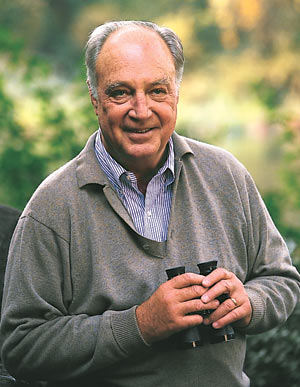 WATERFOWL CONSERVATION lost a champion with the passing of Donal C. O'Brien Jr. of New Canaan, Conn., on Sept. 8. He was 79.
O'Brien, a lawyer by profession, was a passionate conservationist, bird hunter, decoy carver and sportsman. He served on the boards of several conservation organizations, including Delta Waterfowl. O'Brien joined Delta's board in 1988, and has continued as an honorary director.
"He was one of the great visionaries of the conservation movement," said Charles Potter Jr., a current Delta Waterfowl board member. "He was a giant in the conservation world."
O'Brien worked tirelessly to connect people and groups to rally around conservation efforts, according to Potter.
"Don O'Brien was one of the first people to recognize that in order to achieve a landscape-wide impact on waterfowl conservation, partnerships between the private sector and government are essential. That is his legacy."
He believed in finding solutions through research, and that drew him to Delta Waterfowl, Potter said.
"He did more to advance predator management than anyone, and he was an early advocate of Delta Waterfowl getting into predator management."
In addition to his work for Delta, O'Brien served as a chairman for the National Audubon Society and the Atlantic Salmon Federation. He was a founding chairman of BirdLife International, and founding director of the American Bird Conservancy. He also served on boards for the Quebec Labrador Foundation, The Nature Conservancy, the American Museum of Natural History, the Waterfowl Research Foundation, Cornell Laboratory of Ornithology, Theodore Gordon Flyfisheries, the Connecticut Waterfowlers Association and Jackson Hole Preserve. He also served on the Council on Environmental Quality for 23 years in his home state of Connecticut, and chaired the Governor's Task Force on Hunting and Public Safety.
O'Brien was an accomplished decoy carver, twice winning the U.S. National Amateur Champion title. He was an avid bird hunter, dog trainer, fly fisherman and wildlife photographer.
"He studied birds," Potter said. "He was a real traditionalist."