Delta News
Kids Quack It Up at Virginia Chapter Calling Contest
Tyler Shoberg, Associate Editor on 11/07/2013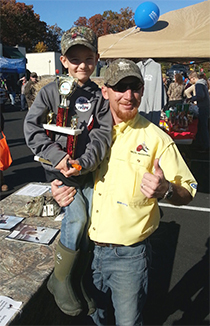 A young Virginian is well on his way to a future as a champion mallard imitator after recently winning the Fall Freedom Festival youth waterfowl duck calling contest in Fredericksburg, Va.
Matthew Blalock, 6, of King George, Va., quacked out a close victory over his 10-year-old brother, Jake, after the two were picked from a pool of 22 participants to duke it out in a call-off. For the win, Matthew earned a stately trophy, donated by Crown Trophy of Fredericksburg. All of the up-and-coming callers took home a Delta Waterfowl duck call, courtesy of the Rappahannock River Chapter.
"You should have heard the parking lot and surrounding areas of the festival," said Douglas Hunter, chapter chair. "All you could hear were these kids blowing our duck calls. It was really great!"
The panel of keen-eared judges included Chris Williams, Delta's Atlantic Flyway regional director; Jerry Decatur, guide and owner of Widewater Waterfowl; Bryan Jones, also of Widewater Waterfowl; a representative from the Fredericksburg Chapter of Ducks Unlimited; Sean Mann of Sean Mann Outdoors; and Doug Hunter, Rappahannock River Chapter treasurer. Virginia Sen. Bryce Reeves made a special guest appearance, too.
— Tyler Shoberg