Delta News
Ontario Volunteers Host 'Soldier On' Waterfowl Hunt
Tyler Shoberg, Associate Editor on 11/08/2013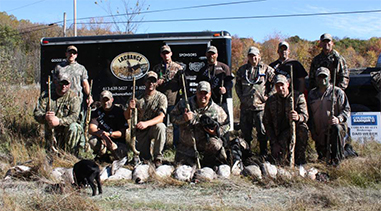 Sometimes it's easy to take the freedoms we possess for granted. Recognizing the costs endured by servicemen and women abroad, a group of Petawawa, Ontario waterfowlers recognized those sacrifices and wanted to give back.
A volunteer mentor team consisting of soldiers from the Canadian Special Operations Forces, the First Battalion Royal Canadian Regiment, and Garrison Petawawa partnered with Soldier On, a program that allows ill and injured Canadian Armed Forces members to attain and maintain an active lifestyle through outdoor recreation and sport. The volunteers conducted fully mentored waterfowl hunts for five recovering veterans. The concept was spawned by the Faces of Freedom hunts hosted by Delta Waterfowl and other partners in Manitoba in 2011, and North Carolina in 2012.
The Soldier On event began with hunter safety courses during the summer, which were instructed and donated by Bill McDonald, of McDonald's Educational Services. The newly certified hunters put their education to good use during two days of duck and goose hunting action in September. Warrant Officer Mike Hopping took point on the duck hunts, while guide Claude Lachance led field goose hunts. Hunters were provided with shotguns by Stoeger Canada, and ammunition from Millbrook Tactical Inc.
After the hunt, a barbecue along the banks of the Muskrat River, sponsored by Dari Weber of Coldwell Banker, Coburn Realty Brokerage, provided the perfect forum to recount the morning events and forge friendships.
Integral in the success of this mentored hunts was the support of Delta Waterfowl, which provided gear bags, equipment and educational material, including waterfowl identification booklets and game preparation guides.
"It was a great," said Capt. Andy Van Loan, of the Canadian Special Operations Training Centre. "The guys were appreciative."
— Tyler Shoberg