Delta News
Famed Louisiana Duck Call Maker Dies
Paul Wait, Magazine Editor on 11/27/2013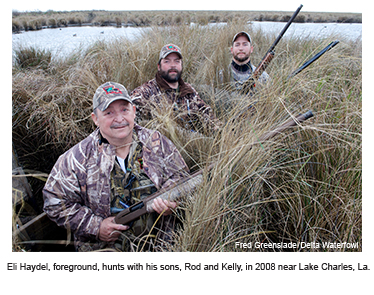 Listen to a recording of Eli's storytelling and saxophone playing.
Eli Haydel, a man who turned his passions for music and duck hunting into a successful international business, has died. Haydel, of Bossier City, La., passed in his sleep early on Nov. 25. He was 73.
Eli Haydel took up the clarinet and saxophone as a teenager, and played in numerous bands and quartets throughout his life. Coupled with an affinity for hunting, he began entering duck calling contests in 1975. He won several calling titles, and his success naturally led to Haydel's Game Calls, Inc., a business Eli Haydel started in his garage in 1981. The enterprise, which is now run by two of Eli's sons, Kelly and Rod, offers 150 hunting-related products, and still features duck and goose calls as its primary items.
"I started calling when I was 14," Eli Haydel told Delta Waterfowl photographer Fred Greenslade during a 2008 duck hunt near Lake Charles, La. "I didn't know what I was doing. Later on in life, I became more proficient with a call and won a few contests. I came up with some components to make my own duck calls. It was just for the fun of it. Unbeknownst to me, it was an overnight success."
Haydel's Calls, known for being impervious to moisture, certainly were influenced by the company founder's musical talents. During that same interview, Eli Haydel explained the link between wind instruments and duck calls.
"You know these military trumpets that play "Taps" at funerals? That's kinda what a duck call is. It has no way of identifying a note like the fingers on a saxophone. You've gotta lip it off. You're just using air pressure to control the reeds."
Eli Haydel served in the U.S. Air Force, and was a member of the Shreveport Sports Hall of Fame, the Legends of the Outdoors Hall of Fame, Louisiana Hall of Fame for Entertainers in Lafayette and an inductee into the Ark-La-Tex Museum of Champions.
He was a highly regarded promoter of waterfowl hunting and the outdoor sports, and appeared on several hunting shows. He also supported conservation and Delta Waterfowl.
Like many waterfowlers, Eli Haydel's genesis as duck hunter happened early in life.
"We moved when I was 14 to a duck hunting area," he recalled in 2008. "Some guys took me, and I've been bit ever since. It's just something about looking at endless skies, and all of a sudden, you've got a flight of ducks in your face."