Delta News
Minnesota Chapter Hosts Hunt for Finland Conservation Officers
Posted on 12/17/2013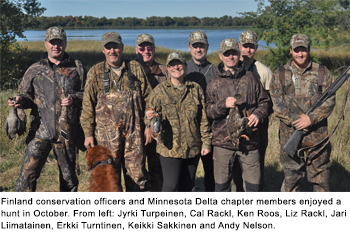 Four conservation officers from Finland learned what the phrase "Minnesota Nice" really means during a September duck hunt hosted by the Delta Waterfowl Big Stone Lake Area Chapter of Ortonville, Minn.
Chapter members Cal and Liz Rackl, along with area wildlife manager Curt Vacek, coordinated the morning hunt for the visiting members of Finland's Eraluvat — the country's equivalent to a fish and wildlife service. The primary purpose of their weeklong visit was to learn about different waterfowl management methods, as Minnesota is similar in habitat and wildlife to Finland. The four Finnish conservation officers — there are only 11 in all of Finland — were also eager experience the thrill of a morning hunt.
With ducks overhead and a welcoming sunrise, language barriers mattered little as the group found common ground in the Minnesota slough. Aided by help with duck calling and duck identification by their hosts, the hunters downed five birds, including a hen mallard taken by Erkki Turntinen, the Finnish group's supervisor, who was then jokingly presented a cattail cigar. The hunt culminated with a lunch of grilled stuffed duck breasts.