Delta News
Youth Enjoy Delta Auctioned Oklahoma Hunt
Posted on 01/09/2014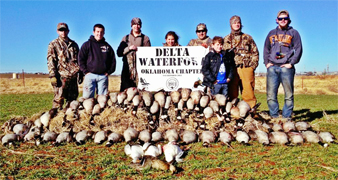 Several youngsters had the chance to witness skies blackened by late-December geese on a field hunt with the Oklahoma (City) Chapter of Delta Waterfowl.
New member Chico Vasquez won the auctioned hunt during the chapter's second annual banquet. Other hunters included Chico Vasquez's daughter, Elena, nephew Dylan Garcia, and brother Tomas Vasquez; Reece Botchlett, Patrick Lambakis, Tanner Black and Gray Diffee. Diffee donated the field hunt and put in a lot of work before finding a wheat field to hunt near El Reno, Okla.
Elena Vasquez, Garcia and Botchlett are all young hunters with varying experience. The highlight of the trip was Elena connecting on her first Canada goose, and the group finished with a pile of Canada geese, three snow geese and two mallards.
"Geese absolutely covered us up, so it was an ideal situation for first-timers," said Lambakis, Oklahoma Chapter chairman. "Our chapter is really pushing the youth aspect, and from what we get to keep from banquets (Delta's Waterfowl Heritage Fund), people know their money is going right back into the community."