Delta News
Looking Ahead: It's Just Ducky
Tyler Shoberg, Associate Editor on 01/10/2014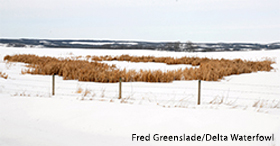 Here's a warm notion for duck hunters suffering through bitter temperatures and piles of snow: This cold, snowy winter will put plenty of ponds on the prairies with the spring thaw. And the more ponds that dot North America's waterfowl breeding grounds, the better the conditions migrating ducks will find when they return to the prairie pothole region to nest.
"As a duck hunter, I'm excited about the prospects," said Delta Waterfowl president Frank Rohwer. "There are a lot of good things going for us this past fall and winter as far as filling potholes for breeding ducks."
Although it's a bit premature to consider spring 2014 a basin-filler, consider three key factors that contribute to spring ponds once the snow melts: fall moisture, frost seal and spring precipitation.
October was a very wet month in the Dakotas. According to the National Weather Service, nearly all of North Dakota and much of South Dakota received double or triple the average amount of rain, which filled basins leading into the winter freeze. This is in stark contrast to fall 2012, when more drought-like conditions left potholes high and dry by the time the snow flew.
According to Agri-Food and Agriculture Canada's drought monitor, the Canadian prairies experienced similarly wet conditions this year. Since September, most of the prairie pothole region spanning Saskatchewan, Alberta and Manitoba received average to above average precipitation. The only below-average areas include south-central Manitoba and a small chunk of eastern Saskatchewan.
With ample moisture and plenty of freezing temperatures since, a solid frost seal is all but assured. Frozen ground takes longer to thaw, which hinders soil from absorbing water and allows seasonal wetlands to spring up across the landscape. These temporary oases are full of nutrients essential to the health of nesting hens and ducklings.
"Last year really showed the importance of fall moisture," said Matt Chouinard, Delta Waterfowl staff biologist.
A lack of moisture into winter 2012 meant little to no frost seal, resulting in nearly all of the spring runoff being absorbed by the soil.
"Thankfully, we received a bunch of spring snow and rain, which really helped increase pond counts last spring," he added.
Following good fall precipitation and with a solid frost seal in place, this year's only unpredictable element is spring precipitation. The National Weather Service is predicting colder and drier weather through March, but it only takes one, big late-winter storm or early-spring dousing to drown the prairies and top off ponds.
"I think we probably need at least one more really good snowfall to seal the deal and assure seasonal wetlands don't dry up too early if it's a dry spring," said Mike Szymanski, migratory game bird biologist for the North Dakota Game and Fish Department. "A single 12-inch snowfall in March goes a long ways."