Delta News
It's Part of Our Lifestyle
Jeremy Stephens, Regional Director on 01/22/2014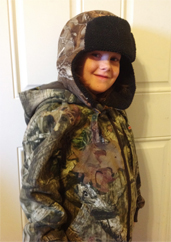 "Camo day."
I beamed with pride when I saw these words.
It's spirit week at New Franklin schools, so every day this week, the kids will be dressing as a different theme. They will have pride day, twin day and several others but, in rural Missouri, there is no better way to kick things off than with camo day.
When you become an adult, many important decisions need to be made. First on that list is where you will live. Do you raise your kids in small town America or do you head to the big cities where there are better jobs and endless choices for you and your kids? It's a never-ending debate. My decision was to stay home.
New Franklin, Mo., is home to only 1,100 people. My wife and I have both spent the majority of our lives here, graduated from the high school and know nearly everyone by name. There is one gas station, no restaurants, a car wash and "The" four-way stop. There aren't a lot of options for extracurricular activities (my daughter wants to play the guitar) like in the big city. We have discussed moving away many times over the years, but we never have been able to leave. Few things have confirmed our decision to stay quite like camo day.
In a world with daily struggles between anti-hunters and groups such as Delta Waterfowl that are working to get kids involved in the outdoors, it's refreshing to see that in small-town America, camo day is such an accepted theme.
On Monday as I watched the herd of camouflage-clad youngsters funneling into school, I couldn't help but think that if every school had camo day, the future of hunting would be in great hands. Hey, maybe you could talk to your school about having a camo day.
For some people, living in the big city might be the only way.
Me? I'll take camo day.