Delta News
Utah Chapter Builds Boat Ramp
Posted on 01/23/2014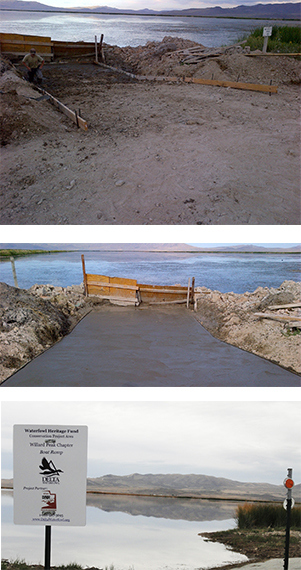 The Willard Peak Chapter of Brigham, Utah, has been setting a strong example of how to improve duck hunting, both now and for the future.
In September, the chapter held an educational Waterfowl Basics course at the Bear River Migratory Bird Refuge's visitor center that drew 150 people. Soon after, chapter volunteers put the finishing touches on the construction of a boat ramp that granted access to nearby Pintail Lake, which was recently opened to motorized boats. The marsh was equipped with five handicap-accessible hunting blinds, but until the Willard Peak Chapter project, there was no proper place to launch a boat.
"Now, all hunters should get a better harvest opportunity," said Jeff Adams, chapter chairman.
The Willard Peak Chapter has made a great impact in a few short years. Adams said the secret to their success was creating a Youth Committee filled with engaged, enthusiastic members. They've volunteered at events, helped with calling lessons at the Waterfowl Basics event, and inspired others to take up hunting.
"A 12-year-old boy came with his older brother to Waterfowl Basics, then went home that day and pestered his parents to sign him up for hunter education. He finished the online course the next night," Adams recalled. "He did all this because he said, 'I have to be a part of the youth committee and I have to have my hunting license.'"
As a waterfowling destination, Utah is a well-kept secret. Thanks to the efforts of Willard Peak, however, more people will know about both the hunting and the hard work of Delta's dedicated volunteers.
"We're a growing chapter that is trying to keep Delta alive and well in Utah," Adams said.