Delta News
House Passes 2014 Farm Bill
Tyler Shoberg, Associate Editor on 01/29/2014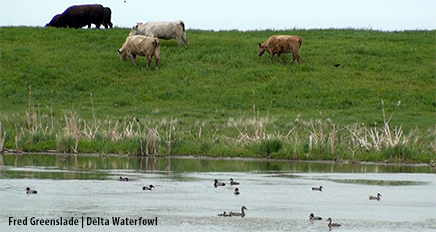 Key duck conservation priorities included; Senate vote up next
The long-awaited U.S. Farm Bill — which contains key conservation priorities benefiting breeding ducks — cleared a major hurdle Wednesday on a 251-166 vote the House of Representatives.
While the $956 billion Farm Bill cuts nearly $19 billion from food stamps, farm programs, commodity programs and conservation during the next 10 years, many critical conservation programs and provisions remain intact. Conservation compliance, which includes Swampbuster, has been re-coupled with crop insurance. Under conservation compliance, farmers protected by federal crop insurance agree to conserve and protect wetlands.
"The farm bill contains key elements that Delta Waterfowl and the conservation community have banded together to support," said Dr. Frank Rohwer, Delta Waterfowl president. "The long debate clarified the importance of maintaining conservation compliance and Swampbuster as top priorities to sustain the habitat base on the prairie breeding grounds, and as fundamental drivers of continental duck populations."
More than 1.375 million small, temporary and seasonal wetlands will be conserved in the prairie pothole region of North Dakota, South Dakota and Montana as a result of Swampbuster. In North Dakota alone, more than half of the state's wetlands were at risk from agricultural conversion and drainage. Seventy percent of North Dakota wetland basins occur on privately owned cropland. The small wetlands on these croplands are critical for breeding and nesting ducks, and conservation compliance covers a U.S. Fish and Wildlife Service estimate of more than 1.4 million breeding duck pairs across that region — 32 percent of breeding ducks in those states.
The new Farm Bill significantly reduces Conservation Reserve Program acreage. The cap on CRP acres was drops to 24 million by 2018, 8 million fewer acres than the cap in the 2008 Farm Bill. Currently, 25.6 million acres are enrolled in CRP, with 2 million acres are set to expire this year. An incentive-based program, CRP pays farmers to idle marginal land and plant cover grasses.
While CRP acres decrease, lawmakers look to increase acre efficiency with various conservation programs that aim to protect or enhance habitat. The Farm Bill consolidates 23 conservation programs into 13, resulting in a $6 billion spending cut.
Another notable conservation measure is a regional Sodsaver program. Iowa, Minnesota, Montana, Nebraska, North Dakota and South Dakota — important duck production states — are included in Sodsaver, a safety net that conserves precious cover for grassland nesting ducks by reducing the incentive for famers to break native prairie.
"Maintaining conservation compliance and Swampbuster, the development of a new Sodsaver provision and a reduced, yet viable, CRP program ensures that the Farm Bill will continue to serve conservation needs on private lands and maintain the habitat for ducks breeding in the U.S. prairies," Rohwer said.
Hunter access programs are also funded in the new Farm Bill. Mandatory spending of $40 million a year through 2018 — a decrease of $10 million annually from the last Farm Bill — has been allocated for the continuation of the Voluntary Public Access and Habitat Incentive Program. Referred to as Open Fields, the program is operated by state fish and wildlife agencies, with money awarded by grants from the U.S. Department of Agriculture. Examples include the block management program in Montana and the Private Lands Open To Sportsmen (PLOTS) program in North Dakota.
To become law, the Farm Bill must pass the Senate before ultimately being signed by President Barack Obama. A vote in the Senate could come as soon as Thursday. The bill must pass as-is, with no chance for amendments.