Delta News
Delta Waterfowl Supports Sunday Hunting in Virginia
Paul Wait, Magazine Editor on 01/30/2014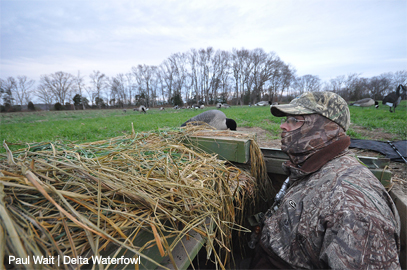 A bill to allow Sunday hunting on private land in Virginia has advanced to the state Senate, and Delta Waterfowl is asking Virginians to contact their senators to support its passage.
On Tuesday, the Virginia House passed its version of the bill by a 71-27 vote. The pending legislation would allow Sunday hunting on private land with a landowner's written permission. A similar bill is currently being debated in the Virginia Senate.
Delta Waterfowl is a strong advocate for waterfowl hunting, and has long supported efforts to lift Sunday hunting bans. On Wednesday, Delta Waterfowl sent out the following action alert to Virginia members.
Take Action to Support Sunday Hunting on Private Lands in Virginia!
Delta Waterfowl is urging you to contact your member of the Senate and urge their support of SB 154 which will eliminate the prohibition of Sunday hunting in the Commonwealth and allow Sunday hunting on private lands. On January 28, the House passed HB1237 which cleared another hurdle and historic progress on making Sunday hunting a reality, but positive action in the Senate is necessary.
Delta Waterfowl has worked with our members and volunteers and numerous partner organizations for a number of years in Virginia, Pennsylvania and North Carolina to overturn Sunday hunting prohibitions. We believe that Sunday hunting will allow hunters an additional weekend day to be afield which can certainly aid in retaining and recruiting waterfowl hunters.
In order to provide you with a seamless means of contacting your legislators, Delta Waterfowl is utilizing its Votility software https://account.votility.com/enterprise/DeltaWaterfowl as an efficient way to voice your support for this bill and communicate directly with your legislative leaders and their staff. Please take a couple of minutes to register and follow the prompts to submit your comments.
We greatly appreciate you reaching out to your legislators on this important matter to help ensure a brighter future for waterfowl hunting in Virginia!
Sincerely,
John L. Devney
Vice President, U.S. Policy