Delta News
Hoping for More Snow
Tyler Shoberg, Associate Editor on 02/04/2014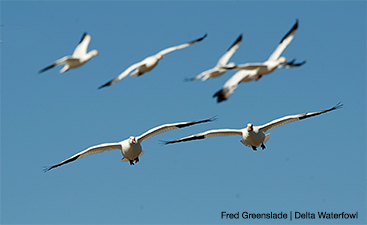 Austin Logan can remember when hunting snow geese in Texas meant hordes of birds and a high chance of success.
Fast-forward almost a few decades, and the 41-year-old outfitter and guide believes he's seen the high point of goose hunting across the Lone Star State's coastal region, which has historically held some of the Central Flyway's largest concentrations of wintering snow geese.
"When I first started hunting snows with my dad at 13 years old, you could kill 40 birds over 50 rags in an hour-and-a-half and call it a day," said Logan, chairman of the Salt Grass Prairie Chapter of Delta Waterfowl in East Bernard, Texas. "Now, we set 1,000 socks and fullbodies, and get lucky to shoot a dozen birds. It's a whole different world."
Light geese (which include snow geese and Ross's geese) once covered coastal Texas like fleas on a coonhound. Since the early 1970s, half of the Central Flyway snow geese counted during U.S. Fish and Wildlife Service mid-winter surveys — sometimes more than 1 million geese — wintered in Texas.
With plenty of birds to target, hunters did a bang-up job. In 2001, for instance, Texas hunters killed 280,000 light geese.
But then the coonhound got a flea bath.
Despite a mid-continent population of 4.6 million snow geese, this year's mid-winter survey counted just 181,000 light geese along the Texas coast, the least amount since the survey began in the 1940s. That number also is 52 percent less than last winter, and a far cry from the 930,000 geese averaged from 1996 to 2000. Hunters are feeling the pinch, too. During the 2012-13 season, just 88,000 light geese fell to 31,000 waterfowlers.
"There's absolutely no question that we are experiencing a pretty dramatic change. The snow geese just aren't coming here any more," said Kevin Kraai, waterfowl program leader for the Texas Parks and Wildlife Department.
The reasons the geese are ditching Texas are frustrating to hunters and waterfowl managers alike.
"It's a multi, multi-faceted issue with no simple answer," Kraai said.
Texas is one of several southern states gripped by severe drought conditions — now for several years in a row. Logan's area of South Texas receives its water from Lake Travis, a 19,000-acre reservoir that holds back the Colorado River. When Lake Travis drops to a certain level from a decreased flow out of the Colorado, water becomes scarce for everyone downstream.
Logan, who had 16 ponds last year, is down to four ponds now, which severely limits hunting opportunities for the wary white birds.
"The snow geese we have around here get smart in a hurry," he said. "They need someplace to sit. You can't just hunt them in the same spot every day."
Farming practices have changed, too. Snow geese are gluttons for rice. When Texas boasted roughly 600,000 rice acres in the mid-1980s, the geese gorged themselves. But the state's rice acres have dropped in the past 30 years — to less than 200,000 today. Farmers have gotten more efficient during harvest, which results in less spilled grain for geese to gobble up.
By contrast, rice crops and winter snow goose populations are booming in other southern states. Arkansas currently has 1.3 million acres of rice, and holds 1.6 million snow geese by the latest counts. Arkansas had averaged 340,000 light geese during a 15-year span ending in 2005, and had as few as 1,300 birds in the early 1970s.
Kansas and Missouri also are holding more light geese than they used to. Milder weather and plenty of spent grain means snow geese don't have to fly as far south.
A drought with no end in sight and less habitat, rice and birds: It's an equation that means hard hunting for Texas waterfowlers targeting light geese, and a lot of work ahead for waterfowl managers.
"There's something not right here and the snow geese are the first signs of an overall landscape with a diminished carrying capacity," Kraai said. "We're going to get very aggressive here in the next few years to put habitat and water back on the landscape to help curb the losses."
"The Gulf Coast always has been and will remain important to migrating waterfowl," he added. "Having quality habitat for them is imperative."