Delta News
Delta's Webster Inducted into Minnesota Waterfowl Hall of Fame
Tyler Shoberg, Associate Editor on 02/12/2014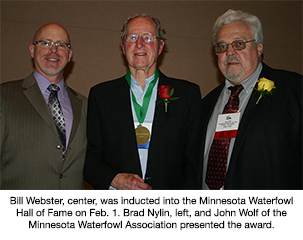 A passionate duck hunter who spent nearly two decades on Delta Waterfowl's board of directors was recently honored for his lifelong dedication to waterfowling, conservation and art.
William "Bill" Webster was one of seven individuals inducted into the Minnesota Waterfowl Hall of Fame during the annual Minnesota Waterfowl Association
awards banquet on Feb. 1. The Hall of Fame recognizes individuals who have made lasting impacts on the waterfowling tradition in Minnesota.
"When you think of people (already in the Hall of Fame) like James Ford Bell, Jimmy Robinson, Les Kouba, to name a few, you can't help but respect them," said Webster, 88, of Frontenac, Minn. "It is a great honor."
Like many hunters, Webster dreamed of hunting ducks at storied locations across North America, including Delta Marsh in Manitoba, Canada. That dream came true in the late 1970s after meeting Cecil Bell, whose grandfather was James Ford Bell, Delta Waterfowl's founder.
After hunting the marsh and become intrigued by Delta Waterfowl's mission, Webster joined Delta. He began serving on the board of directors in 1983, and was elected president in 1995. Webster retired from the board in 2001. His 18 years on the board left a legacy that was integral in shaping North America's leading waterfowl research organization.
"Bill was really the guy that catalyzed Delta from the old to the new," said Frank Rohwer, Delta's president. "In terms of his contributions to wildlife art, Delta Waterfowl and duck hunting, he certainly is very worthy of the Minnesota Waterfowl Hall of Fame."
A World War II veteran stationed on Tinian Island with the Army Air Corp's 509th Bomb Group, Webster found his calling in life in 1967 when he turned his hobby of collecting duck stamps and wildlife prints into a business. His art studio, Wild Wings, soon became synonymous with wildlife art. Although Webster sold the company in 2002, Wild Wings remains a leading North American publisher, producer and distributor of wildlife, sporting and nostalgic art.
"I see Bill as someone who brought people together with the idea of maximizing everyone's efforts," said Brad Nylin, MWA executive director. "He really saw the future for taking these incredible artists and giving them a platform to share their works."
That expertise and insight paid dividends at Delta Waterfowl, too. Webster was a key player in changing the organization's name from the North American Wildlife Foundation to Delta Waterfowl. His push to turn it into a member-driven organization increased Delta's contributors from 100 to more than 40,000 members today.
"Delta Waterfowl has grown significantly and played a strong role in habitat research and ducks. You sometimes wonder how much people can learn about a duck, but we keep learning," Webster said. "It's encouraging to see where Delta is today, and I'm very pleased to have been a part of it."