Delta News
Tennessee Groups Host Huge Youth Waterfowl Hunt
Tyler Shoberg, Associate Editor on 02/12/2014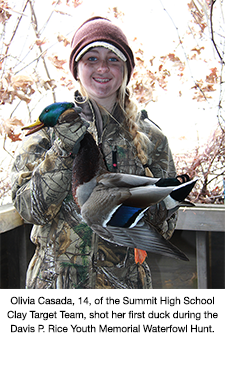 At the end of Tennessee's regular waterfowl season in late January, Bubba Humphrey solemnly hangs up his gear just like every other duck hunter in the state.
But he doesn't stay out of the marsh for long. The chairman of the Delta Waterfowl Northwest Tennessee Chapter in Dyersburg is one of dozens of volunteers who help host one of the largest youth hunts in the United States: The Davis P. Rice Youth Memorial Waterfowl Hunt.
"We had about 25 kids the first time we held a youth hunt eight years ago, and it's grown every year since," Humphrey said. "Now, we average around 300 applicants and usually take out just short of 150 kids."
For the past six years, the event has honored the life of Davis Rice, who lost his life in a car accident while attending college. An avid hunter, Davis Rice was the son of Tom Rice, a member of the Tennessee Fish & Wildlife Commission.
Organizing and implementing a youth hunt of such magnitude takes collaboration. Local Delta volunteers and the Tennessee Wildlife Federation, a not-for-profit organization, band together to introduce waterfowling to the next generation.
Many of the hunt applicants are involved in the Tennessee Scholastic Clay Targets Program, which provides kids in grades 5 to 12 the opportunity to learn about shotguns and shooting sports such as skeet, trap and sporting clays. While the program is wildly successful, most of the shooters don't hunt. The annual youth waterfowl hunt might help change that.
"It's a very diverse group of kids, including a lot of females. What we're trying to do is take these athletes who are competing with a shotgun and introduce them to waterfowling," said Jay Sheridan of the TWF. "Through introducing these kids to the wonders of nature and the bounty of our natural resources, we've planted a seed that, hopefully, turns them into lifelong hunters and conservationists."
Tennessee's youth waterfowl season is held two Saturdays after the regular season. This gives first-timers the best chance of seeing a high number of wintering ducks and geese.
"It's nice for the kids because the birds settle down a bit," said Tim White, a Tennessee Wildlife Resources Agency waterfowl biologist. "Our state youth hunt is really popular, well-utilized and highly successful."
Before the hunt, kids, parents, coaches and guides gathered for a dinner and banquet where nobody left empty-handed. Winners took home gear donated by Delta Waterfowl and Final Flight Outfitters, $500 scholarships from TWF and a lifetime Tennessee hunting license funded by Tom Rice.
On Saturday, 125 kids were spread across 15 west Tennessee farms in blinds donated by local hunters. After a reprieve from hunting pressure, flock after flock of decoying ducks — mostly mallards, wigeon and pintails — provided opportunities to the young guns.
"It's an experience that opens up a whole new world for these kids, and it's something they're remember for the rest of their lives," Sheridan said. "It's a kind of fellowship that people who don't duck hunt would never know about."
Humphrey has passed the waterfowling torch to his sons, ages 8 and 19. While he knows the lessons learned and characters built from hunting are important, there's another reason to hook kids early and often.
"One of these days, when I'm old and decrepit, hopefully they'll drag me out hunting and return the favor," he said, with a laugh.