Delta News
Virginia Governor Signs Sunday Hunting Bill
Tyler Shoberg, Associate Editor on 03/06/2014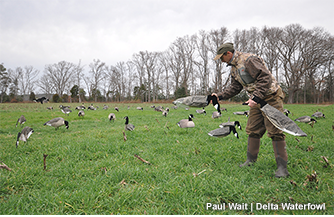 For the first time in more than 80 years, Virginia waterfowlers can hunt ducks and geese seven days a week. On Wednesday, Gov. Terry McAuliffe signed Virginia House Bill 1237, which repealed a "blue law" from 1930 that sidelined Old Dominion State hunters on Sundays.
"The signing of the Sunday hunting bill is a great testament to the hunting community in Virginia," said Chris Williams, Delta Waterfowl Atlantic Coast regional director. Williams and Delta chapter members were involved throughout the repeal process. "All of the Commonwealth should be proud to know that the traditions we enjoy so much have another opportunity to grow and flourish in the generations to come."
The repeal takes effect July 1, after spring turkey season, but well ahead of the fall waterfowl migration. There are some caveats to the law, however. Sunday hunters can only hunt private property, either their own or with written permission from a landowner. Hunting is not allowed within 200 yards of a place of worship. The law also prohibits hunting deer and bear with dogs on Sundays.
Ten other eastern states — Connecticut, Delaware, Maine, Maryland, Massachusetts, New Jersey, North Carolina, Pennsylvania, South Carolina and West Virginia — either ban our restrict Sunday hunting.