Delta News
Delta Waterfowl Magazine Features Ducks Today
Paul Wait, Magazine Editor on 03/07/2014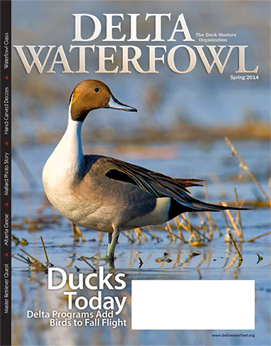 Just as ducks and geese begin to push north to the breeding grounds, another "migration" is underway: the Spring Issue of Delta Waterfowl magazine is in the mail.
Inside, you'll find a comprehensive look at what Delta Waterfowl is doing to put more ducks over the decoys this fall. You'll discover why Hen Houses and predator management are the most cost-effective duck production tools on the prairie breeding grounds.
Delta photographer Fred Greenslade shares a comical look at the antics of drake mallards trying to win a mate, while editor Paul Wait takes you to an Alberta layout blind for a multi-species goose hunt.
We focus on retrievers, too, with a first-person look at one amateur trainer's quest to put a Master Hunter title on his yellow Labrador. In addition, associate editor Tyler Shoberg details water-borne threats to duck dogs.
In Camp Chef, we're grilling specklebelly steaks, while our Duckology column explains the "Super Field Phenomenon." In the Delta Notebook, you can test your duck breeding area knowledge and read about a shift in wintering snow geese.
Collect duck decoys? You need to read the Traditions column in this issue.
The Spring Issue — our first of five magazines in 2014 — begins mailing to members this week. Not a member? Haven't renewed? Click here to make sure you don't miss this issue!