Delta News
Harsh Winter Weather Tough on Waterfowl
Tyler Shoberg, Associate Editor on 03/07/2014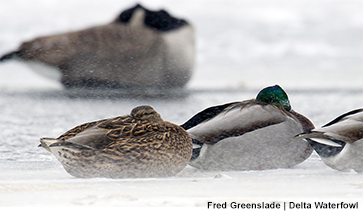 This exceptionally cold, snowy and icy winter hasn't been kind to man nor beast — including ducks.
The Michigan Department of Natural Resources recently requested locals living along the Great Lakes keep an eye out for confused and stranded waterfowl. Apparently the lengthy stretch of cold weather has caused bays and waters of the Great Lakes to freeze more than normal. Instead of moving deeper toward open water, however, waterfowl are searching inland.
Consequently, various grebes, mergansers and long-tailed ducks have been spotted stranded on icy roads and driveways, which they've mistaken for open water after being confused by low-visibility conditions. Because these diving birds have feet placed far back on their bodies, they are not adept waddlers on dry land and can't take flight once grounded.
Although this happens an on annual basis, this year's exceptional weather has caused more reports than usual. If Michigan residents find these birds, they are asked to contact a local wildlife rehabilitator to help return them to water. For more information, visit http://www.michigandnr.com/dlr/.
This is not the only time this winter that wayward waterfowl were put in precarious situations.
In late November, a flock of ruddy ducks was forced down during an ice storm near Noble, Okla., becoming stranded on busy roads. More than a dozen of the ducks were rescued and brought to local shelters for care, but many died after being struck by vehicles. All the birds had visible ice on their wings and tail feathers, which likely caused the emergency crash landings.
With spring still weeks away, and more winter storms on the horizon, be wary of waterfowl in unusual places.