Delta News
Surveys Says: Weather Moved Waterfowl South
Tyler Shoberg, Associate Editor on 03/07/2014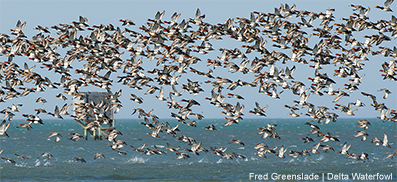 WHILE THIS WINTER'S polar vortex weather wreaked havoc on southerners, it was a boon to southern waterfowlers who could make it to the duck blind.
An earlier winter in the north and steady cold, snowy weather for months pushed ducks and geese south and into the awaiting decoy spreads of happy hunters. Results of midwinter surveys across the United States largely indicated fewer ducks and geese in the north, and higher counts to the south.
In North Dakota, the state game and fish department estimated 71,500 birds statewide, including 52,700 Canada geese and 18,700 mallards in January. That's less than half of the 160,000 ducks and geese counted in January 2013, and a fraction of the record 279,000 tallied in 2012 — a year with an exceptionally mild winter.
Here's a snapshot of survey results from wintering areas:
• West Virginia: Midwinter duck numbers were 67 percent higher than 2013, and 123 percent higher than the 10-year average. Canada goose numbers trended similarly, with a 7 percent increase over last year, and 40 percent above the long-term average.
• Arkansas: In the Delta, 927,000 ducks were estimated, 807,000 of which were mallards. The January number is double that of 2013, and the second highest mallard count in five years. Southwest Arkansas had 36,000 ducks, more than 18,000 of which were mallards. Populations increased in the Arkansas River valley, too, with an estimated 61,000 ducks.
• North Carolina: Of the 660,000 waterfowl counted — 28 percent higher than last year and 71 percent above the long-term average — almost half a million were ducks. Although snow geese numbers decreased from 2013, Canada geese and tundra swan estimates increased by 31 percent and 11 percent, respectively.
While central, south and east coast states benefited from wintery weather, the southwestern United States remains in the grips of prolonged drought.
In California's Sacramento Valley, where 7 million ducks and geese typically winter, a lack of rain and limited access to water has forced farmers to leave rice fields dry. There are 550,000 acres of rice fields there, and farmers typically keep them wet to allow rice straw to deteriorate and provide a winter home to ducks and geese. These act as surrogate wetlands — important habitat in a state where just 3 percent of its historical wetlands remains.
With drought conditions, wintering waterfowl numbers have taken a hit. In the northern San Joaquin Valley, for example, a January survey counted 450,000 waterfowl, a decrease of 175,000 from 2013 and a far cry from the 1.2 million birds counted in 2012.