Delta News
Delta Expands Regional Events Director Staff
Tyler Shoberg, Associate Editor on 03/25/2014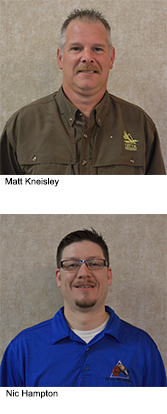 Delta Waterfowl has added Matt Kneisley and Nic Hampton as new regional events directors to meet the needs of the organization's growing chapter system.
A Pennsylvania native, Kneisley will cover the Northeast Atlantic Flyway and work with Delta chapters in Pennsylvania, New York, Northern Maryland, Delaware, New Jersey, Connecticut, Vermont, New Hampshire, Rhode Island, Massachusetts and Maine.
Kneisley is a lifelong hunter and decoy carver whose family is rooted in the traditions of East Coast waterfowling. He also is the co-founder and past chairman of the Lancaster, Pa., Chapter.
"Joining the Delta Waterfowl family as a regional director is a dream come true," he said. "I'm looking forward to helping Delta expand along the East Coast."
Kneisley can be reached at (717) 666-4595 or mkneisley@deltawaterfowl.org.
Hampton will support chapters in Iowa and Nebraska.
A fourth-generation duck hunter and father of three, Hampton awaits the migration along the Mississippi River near home in Burlington, Iowa. He has co-chaired the Burlington-based Aldo Leopold Chapter for two years.
"My goal is to grow new chapters across Iowa and Nebraska and spread the word that Delta Waterfowl really is the duck hunters organization," he said.
Hampton can be reached at (319) 750-4564 or nhampton@deltawaterfowl.org.
Delta Waterfowl also has promoted Chris Williams and Bryan Leach to the position of senior regional director. Both men will assist the events staff to foster chapter growth throughout North America. Williams and Leach joined Delta as regional events directors in 2010.