Delta News
Sound Business: Teenager Makes Duck Calls
Tyler Shoberg, Associate Editor on 03/26/2014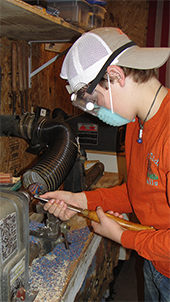 When Tate Estis was 5 years old, his father took him duck hunting for the very first time.
"My eyes just lit up," Tate recalled.
That fateful trip sparked a fire inside the young Virginian. Now 13, Tate is a diehard outdoorsman. But his true passion is waterfowling.
So much so that a year ago he got the notion to start turning duck calls. It sounded cool, he thought. His parents were inclined to brush it off as just another phase. Tate persisted, so mom and dad made him a deal: If he really wanted to start making calls, he could use his Christmas money and buy the tools and equipment himself.
Tate did.
"I wanted him to have some investment in the project," said Dave Estis, Tate's father. "I wanted him to say, 'I bought this,' so it wasn't so easy to walk away from it if he got bored or frustrated."
Tate and his dad researched call making with gusto. They pored over Internet hunting forums for any documentation they could find. The plan came into focus. Tate bought a lathe, as well as a band saw and table saw that had been passed down from his great-grandfathers.
He turned and shaped, sanded and polished. The first few wood calls weren't perfect, but Tate didn't give up. The more calls he made, the better they turned out. Ebb Tide Calls, a business named after the family's faithful Labrador retriever, was born.
Tate started an Instagram account to display the many calls he produced. Orders began trickling in. In a little over a year, Tate fashioned more than 200 handcrafted duck calls — both single-reed and double-reed — that have been shipped across 12 states. No two calls are alike, and Tate does his best to construct them to his client's wishes.
But for Tate, the best reward is using a call he made himself.
"I love hunting," Tate said. "It's an experience to go out with my own call and put ducks on the water. That's amazing."
Starting a business and making calls has instilled positive values in Tate. He knows what it means to put his name on a product, and he won't ship a call unless it is the best quality he can make.
He's also saving for college. And who knows? At some point, Tate's little call company could turn into big business. For now, the young duck hunter is working to perfect a call carving technique to help hunters put a few more ducks in the decoys. And as long as he keeps up his grades, his parents won't stand in the way of his venture.
"We're very proud of him," Dave Estis said. "He's always had a passion for the outdoors, and now, not a day goes by that I don't hear a duck call."