Delta News
Oklahoma Chapter Supports Youth Education
Posted on 03/31/2014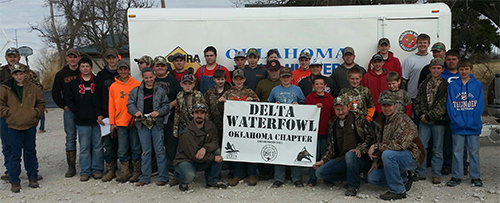 Touted as a graduate studies program in outdoor skills and safety training for young hunters, the Oklahoma Youth Hunters Education Challenge in Canton, Okla., recently received a $500 donation from the Oklahoma (City) Chapter.
Open to those who have already completed a state hunter safety program, the daylong event drew 40 young participants who took part in advanced hunter safety, wildlife identification, archery, skeet shooting and a .22-caliber rifle course.
The Oklahoma Chapter donated hats, calls, Delta Waterfowl decals and duck identification books, as well. Chapter volunteers Blain Evans, Kyle Baisden, Josh Ghobity, Robert Lamar and chairman Patrick Lambakis helped host the National Rifle Association-sanctioned event.
"Through our Waterfowl Heritage Funds, we are putting money that we raise back into our community in an effort to get more youth involved in the outdoors and Delta Waterfowl," Lambakis said.